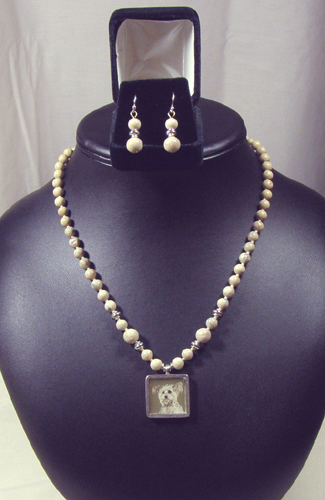 "Westie with African Opal"
West Highland Terrier pendant, almost 1 inch in length, hangs from necklace of African Opal. African Opal is a trade name of a stone mined in Africa that is not truly an opal, but parts of which can have opal-like qualites. It exhibits colors of cream and beige and sometimes has fine, black veins running through it. Ear wires are Sterling Silver and of a heavier-than-average gauge. All other metal is silver-plated.
Necklace Length:
16¼" - 19"
$60.00 for set
"Autumn Debut"
SORRY, SOLD
This ornate, handmade lampwork glass celebrates the rich hues of autumn, but can be worn anytime of the year! Rich brown and bright yellow-orange floral designer beads are spaced with handmade East Indian brown glass cylinders with tiny brown seed beads in between. Necklace is finished with Red Tiger Eye and gold-plated lobster claw clasp and extender chain. Earrings include nickel-free gold-finished ear wires and feature matching floral brown and orange glass beads.
Necklace Length:
16½" - 19¾"
SORRY, SOLD