"Eleganza"
SORRY, SOLD
The pastel, blue-green color and elegant finish of this set are sure to bring a soothing energy to your day! Gorgeous Green Turquoise beads are finished with ornate antique copper-finished bead caps and daisy spacers, and front of necklace is draped with matching antique copper-finished chain. Overall length of center drop is 1 3/8", and earring drops are 1 1/8" long. Beads in earrings are also Green Turquoise, with bead caps to match the necklace. Extender chain, lobster claw clasp, and fish hook ear wires are all antique copper finished.
Necklace Length:
18¾" - 21½"
SORRY, SOLD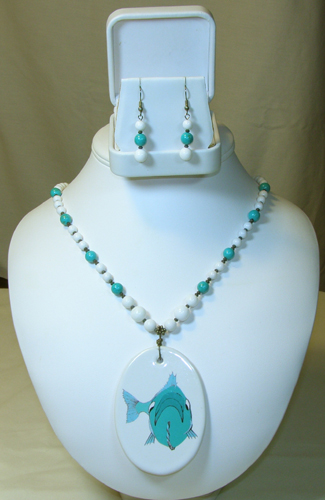 "Caribbean Adventure"
Large oval ceramic pendant, 3 1/8" long, features high quality art by Truman Keesey and hangs from Sterling Silver spacers. The beautiful turquoise color of the fish is perfectly matched by the turquoise- colored gemstone beads and will make you feel that you are sailing the seas of the Caribbean! Bright white "Mountain Jade" (actually a high quality Dolomite) matches the background of the pendant. Beads are separated by tiny, silver-plated saucer-shaped spacers. Earrings consist of oxidized silver-plated French hook ear wires and 1" drops, consisting of beads to match the necklace. Extender chain and lobster claw clasp consist of oxidized Sterling Silver.
20¾" - 24½"
$49.00 for set